Formed Metal Fireplace Screen Systems | Cascade Home Decor
Protect your home from the dangers of fire sparks without compromising the beauty of your fireplace with the Cascade Coil Formed Metal Fireplace Screen – one of the top custom fireplace screens available today. Choose from a wide range of sizes to fit almost any fireplace.
The heavy quarter-inch 19-gauge wire curtain screens with 40% fullness will act as a barrier between the fireplace and the living room giving you protection from dangerous sparks and ash. This fireplace screen is a recessed screen and mounts flush with your fireplace. Also includes pull chain operation option.
Choose from 5 beautiful metal face plate finishes to match your home décor – Plated Polished Brass, Classic Bronze, Enduring Black, Tuscan Iron and Plated Antique Brass.
Fireplace Measurements Required: Please select the size of each measurement (the first dropdown is for whole inches, the second is for fractions of an inch) to the nearest 1/16.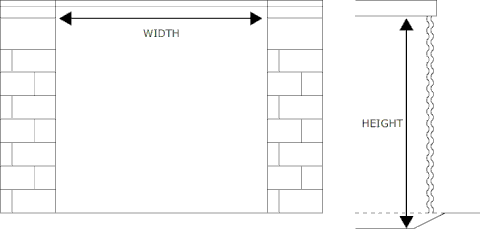 Width: Measure the top width of the inside of the fireplace opening.
Height: Measure the height from the inside of the top of the firebox opening to the firebox floor, 1″ inside of the face of the fireplace.
Note: Do not make deductions from measurements. Standard deductions will be made by factory.
---
Fireplace Screen Showcase
Manuals & PDFs

---
Additional Product Specifications